Unique Earrings Are Cages To Hold Malachite Balls
$22.00
Description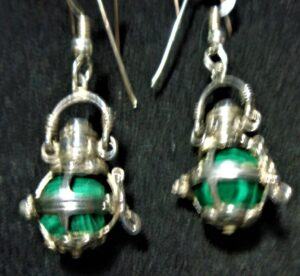 Have you ever seen such earrings as these? They can be considered totally unique. An elaborate sterling silver cage holds a small malachite ball. A clasp on the cage allows it to be opened and the ball removed. Set in the very top of the cage is a tiny round, flat garnet stone.
These very attractive earrings with their elaborately designed cage will prove to be real conversation starters. If you like attractive and unusual, these are for you.
The earring "cage" measures 1 inch from ear wire to base. The cage measures 1/2 inch wide; however, if you include the clasp on the cage, they measure 3/4 inch wide. The French hook ear wires are sterling silver.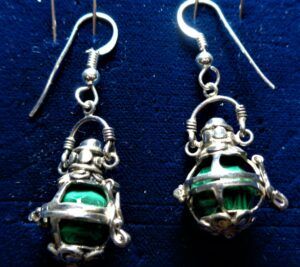 Only logged in customers who have purchased this product may leave a review.