Three Celluloid Vintage Roses Ready For Some Creative Use
$5.00
Description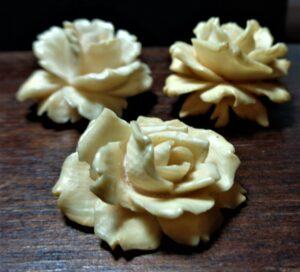 Here are more estate sale items. Two of these three roses were once a pair of clip earrings, but only one clip remains intact. All three could be used in some way to decorate a costume, a jacket, or perhaps for some art project.
Celluloid was an early form of plastic. The celluloid name was patented in 1869. Be apprised that celluloid is extremely flammable, and should be kept away from any heat source.
Also, don't try the hot pin test, as you could damage the jewelry or start a fire. Instead, if you want to test, hold the item under hot running tap water. It will emit a scent of camphor.
These pieces are eminently collectible, so perhaps you'd just like to add them to a collection of vintage jewelry and other items.
The detail on these roses makes them lovely to look at, and they need a good home with someone who can appreciate them. They all measure about one inch across.
Only logged in customers who have purchased this product may leave a review.