String Of Deep Blue Crow Beads On A Knotted Leather Cord
$4.00
Out of stock
Description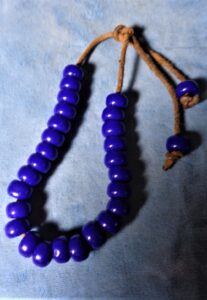 These beads are strung on a leather cord that measures about eight inches long, below the knot. Therefore, it will work well as a bracelet for a wrist that is slightly larger than average. Also, the beads could all be removed and used for another project.
The deep blue Crow beads are six mm in size. On the cord, the beads are tied at the eight-inch length, and on the ends of the cord that extend beyond the knot, a bead is tied to the end to finish the bracelet.
The cord holds 28 beads total, counting the two on the ends.
Only logged in customers who have purchased this product may leave a review.