Sterling Silver Earrings From Boma Jewelry In Renton, WA
$18.00
Description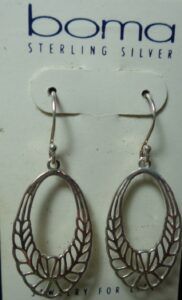 These sterling earrings in a large oval shape combine simple with complex. The outer form is an elongated oval, and the open center of the earring also has an elongated oval shape.
Connecting the inside oval and the outside one has been done by the construction of two rows of silver latticework, starting at nothing at the top of the earring and then forming a pattern of connected small "chambers," growing wider as they progress toward the bottom center point.
The earrings would work well with so many costumes. They are light-weight and shimmer as they ride on your ears. They measure one inch long below the ear wire, from top to bottom. At their widest, they measure 5/8 inch across.
Only logged in customers who have purchased this product may leave a review.