Small Fossil Ivory Dogwood Flower Pendant, Tiny Gold Nugget
$10.00
Description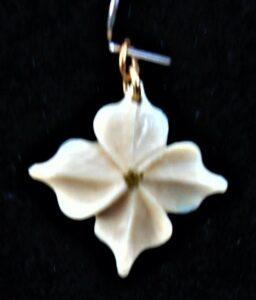 This lovely little hand-carved ivory dogwood flower pendant is perfect for a person who likes dainty jewelry. It could also serve as the first good piece of jewelry for a little girl.
The hand-carved piece has been beautifully detailed to make this pendant immediately recognizable to anyone who knows what the dogwood flower (Canadian Dwarf Cornel) looks like. In fact, it's about the same size as the real bloom.
If you look at the back of the piece, you can see the faint lines that tell you that it's a piece of fossil ivory. It's astonishing to hold this little piece of ivory in your hand and realize it is ancient.
It appears to be carved from a tiny piece of a mammoth tusk. Most mammoths disappeared at the end of the Pleistocene era.
Here is your chance to own a small piece of fossil ivory at a very low price. This pendant measures the same for both width and height — 1/2 inch.
Only logged in customers who have purchased this product may leave a review.