Sienna Sky Earrings Of Wolves Howling At The Moon
$10.00
Out of stock
Description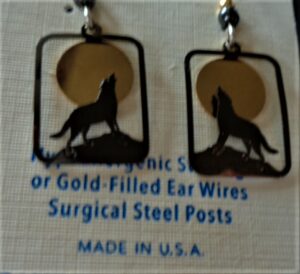 From Sienna Sky in Colorado come these howling wolf earrings. These were a popular design with my customers, and you are fortunate that there is still a pair available.
In a black rectangular metal "picture frame" you see a wolf, nose pointed to the moon, as he howls his night-time song. The gold moon reflects the wolf's silhouette. (Photographing these earrings presented difficulties because of that reflective moon.)
On the sterling wire above the black frame resides a small hematite bead. The black wolf sings his song from his stance on a black base.
These earrings measure 3/4 inch high by 1/2 inch wide.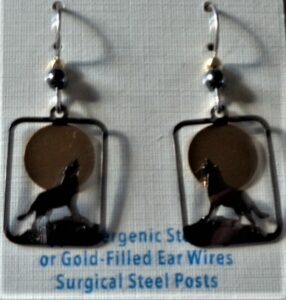 Only logged in customers who have purchased this product may leave a review.