Rose Quartz Tongue Pendant, Small Tourmaline Stone
$24.00
Description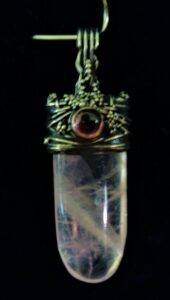 This small but lovely rose quartz "tongue" pendant reminds us that rose quartz is the stone of love. Give this pendant to a loved one, or save all the love for yourself by keeping it.
The rose quartz is set in a very elaborate silver bezel, with a design of granulated silver  drops and criss-crossing silver wires. The bale at top, made as part of the bezel, is also decorated with granulated drops and silver wires running its length.
The ornate design of the bezel matches the smooth, plain surface of the rose quartz very nicely. At the center point of the bale is set a small, round stone that I believe is pink tourmaline.
This pendant measures 1-3/4 inches from the top of the bale to the base of the rose quart. It measures 1/2 inch wide.
Only logged in customers who have purchased this product may leave a review.