Prehnite, Crystal Beads, Antique White Hearts Form Necklace
$25.00
Description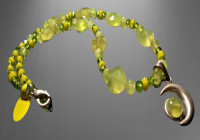 A silver moon and a yellow-green sun form the focal point at the base of this necklace. Faceted, heart-shaped prehnite beads between smaller, smooth round prehnites are interspersed with bright green crystal beads and antique yellow white heart beads to form this necklace.
By rights, this necklace belongs in the bridge jewelry category because of the value of the prehnite. However, as I made this necklace, I decided to put it in costume jewelry and give you a remarkable bargain.
This hard-to-find color could be the perfect match to a shirt or dress you like to wear. It would love to go home with you and brighten up your jewelry corner.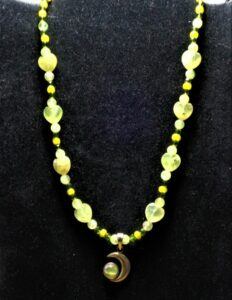 Only logged in customers who have purchased this product may leave a review.