Pink House Beaded Earrings, Hand-made In India
$4.00
Description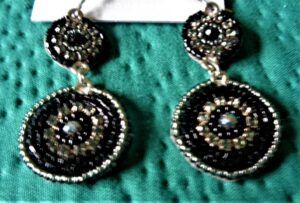 These little earrings are formed in two circles, a smaller one above a larger circle. They are backed with a circle of leather, making the pair much lighter then it would be with a metal back.
The top small circles on this pair of earrings are edged in black beads, with silver and black beads around a center bead that is small, black, and faceted. The larger bottom circle has silver beads on the outside, then alternating with black and silver beads. The center bead is a faceted one that gives off a silver color when the light hits it.
These earrings are on French hoops, which appear to be surgical steel. They measure 1-3/4 inches long.
Only logged in customers who have purchased this product may leave a review.