Paparazzi Necklace, Earrings; Faux Pearls, Faceted Glass
$4.00
Description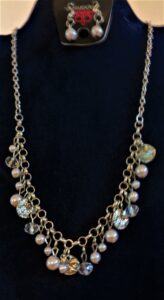 Here are more bargains from the Paparazzi Company. All my Paparazzi pieces are new; they were taken in trade.
This first selection is a necklace and earrings. Though inexpensive materials, the set proves quite attractive. The earring has a faux pearl at the bottom, linked to the French hook wire by three loops of chain. Wires appear to be surgical steel.
The necklace, strung on a silver-colored metal featuring the anchor-chain style of chain, has a row of two sizes of faux pearls, glass beads faceted to gleam like crystals, and a few shiny silver metal coin-like pieces.
About 10 inches at center front of the necklace chain carries all these adornments. The anchor chain itself continues up either side with no decoration until it reaches the full 18 inches of the necklace total length. As with other Paparazzi pieces, a 2-1/2 inch extender is attached to one end of the chain, so the total length of the necklace can be increased.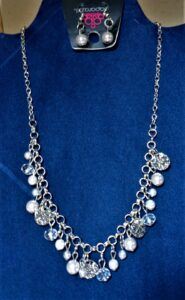 As stated, the total length of the necklace is 18 inches, without the extender. This set could be very useful, and sells for the bargain price of $4.00.
Only logged in customers who have purchased this product may leave a review.