Paparazzi Large Bead Necklace And Earrings, Fall Colors
$4.00
Description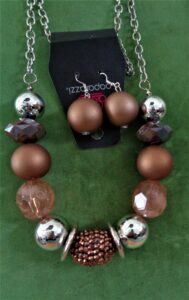 My Paparazzi pieces, all taken in a trade, are brand new, often in original packaging. This one, featuring  very large  beads in bronze and silver colors, might be just the set you have been looking for. If so, you'll get a bargain at $1.00.
Perhaps it might be just the thing for a little girl who likes to play dress-up. She could be a queen, wearing these jewels.
The earrings could perhaps serve as good attachments to the end of a wand, to tempt the cat to play.
At any rate, at $1.00, you should find some good use for the set. Since it's flat-rate shipping, select another piece or two, and you will still just pay $7.00 plus the cost of your purchases.
The necklace measures 20 inches long, and includes a 2-1/2 inch necklace extender.
Only logged in customers who have purchased this product may leave a review.