Mobe Pearl, Granulated Silver Cap, Diamond-Shaped Garnet
$53.00
Description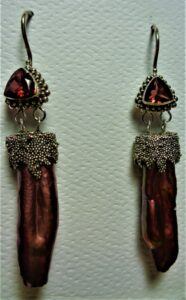 Find here an unusual pair of earrings, not often seen. The main focus of the earring is a mobe (or mabe, with an accent over the "e") pearl, chili-pepper red color. A mabe pearl is a cultured pearl, which forms on the inside of the mollusk's shell, rather than in its body.
The main places where these pearls are grown is Japan, Indonesia, Australia, and the Philippine Islands.
This unique large pearl has a cap formed with granulated silver, characteristic of much Indonesian jewelry. The pearl, attached by double loops to the top, receives some color enhancement from the nice-sized diamond-shaped garnet stone set above the pearl.
The garnet is set in a sterling bezel, with two rows of tiny silver beads around the base. These earrings measure 1-5/8 inches long. The pearl by itself measures 1-1/8 inch long, and 1/2 inch wide at the widest point, the earring cap. The garnet stone is 1/4 inch wide.
Be the only person you know with such a unique pair of earrings.
Only logged in customers who have purchased this product may leave a review.