Long Necklace, Black Cord, Small Silver Beads, Jointed Fish
$9.00
Description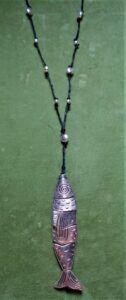 This wonderful necklace from Pink House in California provides a bit of whimsey for someone who likes to wear long necklaces. The cord and beads measure 35 inches long, and the fish at the bottom adds another three inches.
Though I can find no sterling mark on the fish, it is made of a silver metal that does not tarnish. It is jointed, and quite flexible — a real conversation starter.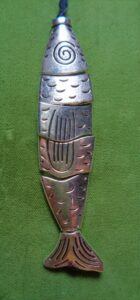 If you want to fish for a compliment, try wearing this necklace.
Only logged in customers who have purchased this product may leave a review.