Lincoln Quote On Four-Inch Heartwood Box With Sliding Lid
$14.00
Description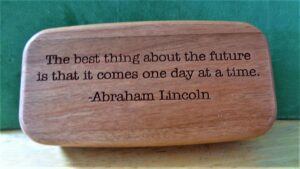 Abraham Lincoln made this observation, which can prove a useful way to consider the future. The Heartwood box can also be a valuable addition to your collection of containers for all occasions. Its proportions measure out to a roomier size than the two listed in the Bargain Trunk.
As with the other quote box, this one measures four inches long by two inches wide by 3/4 inch high. When completely closed, it's hard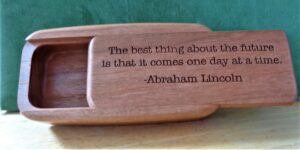 to tell it's a box.
You might also consider this one as a gift for whom you think the quote would have special meaning.
Only logged in customers who have purchased this product may leave a review.