Lia Sophia Six-Stone Necklace, Three Fine Bronze Chains
$12.00
Description
For a classy accessory, choose this Lia Sophia necklace. This one was taken in a trade, and, though not new, it is in excellent condition.
In my research today, I learned something new. Though these pieces might be made in China, the company was actually started in Chicago 28 years ago. Lia and Sophia were the names of the founder's two daughters.
The stones of the necklace, set in what appears to be bronze, features the Lia Sophia signature on the back of the bottom stone.
The three bronze wires of the chain give the piece an antique look. One of the three strands is made up of small, uniform links. The other two are made of fine wire with tiny bronze beads intersperced.
The necklace chain measures 15 inches, and a 3-inch extender allows you to increase this chain length. The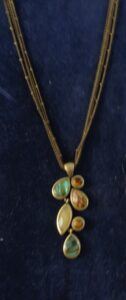 inlaid stones measure 2-1/2 inches from bale to tip and 1 inch wide at the widest point. The lovely stones include two tiger eye, two that appear to be abalone, and two that are perhaps agate.
You can enjoy many years of wearing pleasure with this necklace.
Only logged in customers who have purchased this product may leave a review.