Lia Sophia Round Necklace, Rhinestones, Abalone In Hematite
$27.00
Description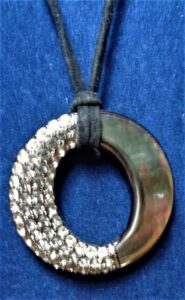 Lia Sophia is a new company to me. I discovered the line comes from China, and is huge. You can select enough stock from their pieces to give your own jewelry parties. I had no idea of value, but found pages of photos of their line on eBay. I took this piece as a trade, so had to research value.
I believe I finally found this pendant on page 119. Finding it was worth the effort,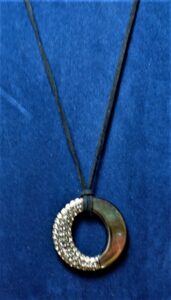 as I discovered its components. The heavy round ring with the oval-shaped hollow center has a base of hematite. One half of the top is set with a piece of black abalone, and one half with rhinestones.
This large round piece hangs from a black cord, and at the end of the cord, you will find the traditional necklace extender. The total length of the necklace without the extender is 20 inches. Add another inch for the extender. The round stone at bottom measures two inches in diameter. The inside oval measures 1-1/4 inches high by 1/8 inch wide.
Only logged in customers who have purchased this product may leave a review.