Lemon Tree Round Earrings, French Hooks, Rose Image On Front
$12.00
Description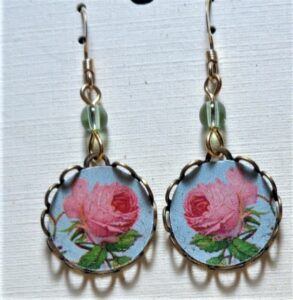 These very attractive round earrings have a raised, scalloped wire edge around the metal circle that bears the design. A fully-opened deep pink rose and a blossom form the image inside this raised edge. The background is pale blue, and green leaves accompany the roses.
This image of a bit of nature furnishes a most feminine design. To help the earring stand out, it is suspended from the French hook by small gold rings, with a pale green crystal bead separating them.
With this added bit of length, the earrings measure 1-1/4 inches long from the base of the ear wire to the bottom of the earring. The circle measures 5/8 inch wide. The French hook ear wires are gold-filled.
Only logged in customers who have purchased this product may leave a review.