Lemon Tree Oval Earrings, Red Rose Design, French Hooks
$12.00
Description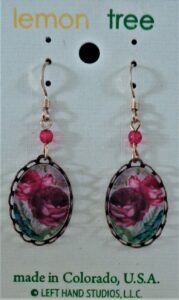 A red rose adorns the center of these earrings from Lemon Tree in Colorado. A scalloped raised wire edge fences in the rose design, which is printed on a metal piece, shaped in an oval form.
The ear wires, most likely gold-filled, have a deep pink bead accent just above the spot where the wire attaches to the earring.
These sweet floral earrings measure 3/4 inch high from the spot where the earring wire attaches to the base of the oval. The earring measures 1/2 inch across.
Only logged in customers who have purchased this product may leave a review.