Large Vintage Celluloid Rose, Velvet Leaves
$10.00
Description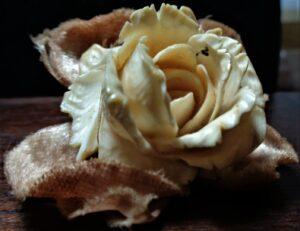 This vintage piece wants to be sewn on a hat or a collar. It would make a great adornment for a lady's fine bonnet. The beautifully-formed delicate rose could enhance many things.
These vintage roses from celluloid are rare, as using celluloid in jewelry is something from the distant past. Bring back some memories of an earlier time with this rose, and start your own collection of vintage pieces.
The rose with leaves measures two inches across and two inches from top to bottom. Dress up a somber outfit with this one.
Only logged in customers who have purchased this product may leave a review.