Large Peach Moonstone, Faceted Peridot, Unforgettable Combo
$38.00
Description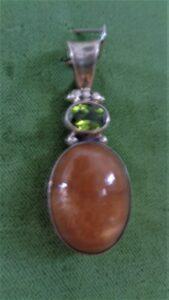 This pendant could well be unlike any other you have seen. On this one, the silverwork is plain, the better to focus attention on the distinctive stones.
On this pendant, a fixed "bridge" attaches the peridot to the moonstone. Above the peridot, a hinge attaches the large, plain silver bale.
This color combo might fit perfectly for a particular clothing ensemble. The large peach moonstone has a golden-brown glow. The faceted peridot above blends nicely with the peach moonstone. Both stones are open at the back so they can breathe.
The moonstone measures just over 3/4 inch long and 1/2 inch wide. The peridot, set lengthwise, measures 5/16 inch wide by 3/16 inch high. The total pendant with the bale measures 1-5/8 inches long.
Prepare to receive compliments if you choose to purchase and wear this pendant.
Only logged in customers who have purchased this product may leave a review.