Joseph Brinton Silver & Lavender Earrings, Sterling French Hooks
$14.00
Description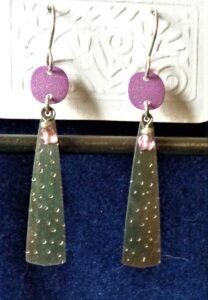 Here is another of my few remaining Joseph Brinton earrings. These, though simple, provide attractive detail to the style.
This pair is another of what I call "necktie" earrings, because of their shape and length. At the top, just below the earwire, is a small rectangular piece of lavender metal, with corners curved. The lavender piece attaches to the long silver piece beneath by a small silver loop. A second small loop holds a lavender bead, positioned so it rests over the top of the silver piece.
This silver "necktie" measures 1-3/4 inches long. It tapers to a point at the top where it attaches to the lavender piece. At the bottom, the silver piece flares to 5/16 inches wide. The surface has been decorated with small marks, or dots, to add some interest to the smooth surface.
Simple, yet attractive, like many of Joseph Brinton's pieces.
Only logged in customers who have purchased this product may leave a review.