Jointed Fish Necklace With Chain Shows Incredible Detail
$8.00
Description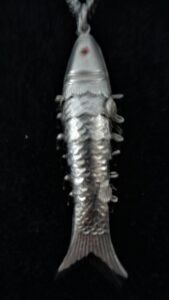 This silver-colored metal fish is made up of a tail piece, a head piece, and five jointed sections in between, making it quite flexible, much as a real fish. Each section overlays the one below it, from the head to the tail.
Both head and tail are stationary, but the sections in between all flex, creating life-like movement. Each section is embossed with scale designs, and tiny side fins are even added to create a real fish look.
Your cat would love this jewelry. Lucinda really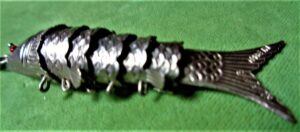 likes it.
Even the fish's tail has lines to make it look like a model of the real thing. Two tiny red "eyes" with a silver dot above them add to the amazing detail of this piece.
The whole necklace is very light-weight for its size. On the tail fins on one side, it says, "made in Hong Cong." The fish, from nose to the end of the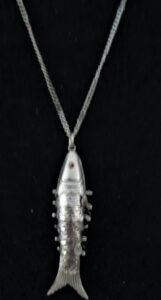 tail, measures 2-3/8 inches long. The chain is 24 inches long.
Only logged in customers who have purchased this product may leave a review.