Intricately Carved Bone Beads Create Stunning Necklace
$12.00
Description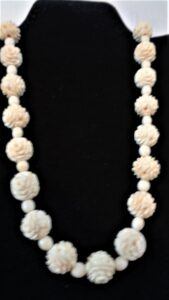 This necklace of carved bone beads spaced with smooth, round beads could be used for either a casual or a dressy garment. Because it is a neutral color, it will go with many outfits.
The necklace is 18 inches long and fastens with a screw-together bone finding, making it very secure on your neck.
The carving on the beads give them the appearance of flowers, and the beads are quite unique and lovely. Each round bead measures 5/8 inch across. Wearing this necklace is bound to bring you compliments.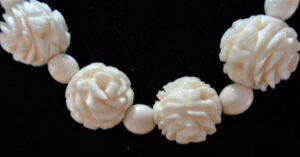 Only logged in customers who have purchased this product may leave a review.