Honey House Bee Natural Products For Your Skin
$8.00
Description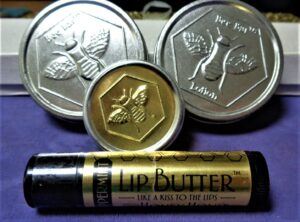 These are the last of a line of skin care products that I carried in my shop. Included are two six-ounce tins of Bee Bar lotion, 1 small tin of lip butter, and also a tube of lip butter.
Ingredients in these are quite good. For example, the lotion bar contains shea butter, jojoba, beeswax, lanolin, cocoa butter, sweet almond oil and Vitamin E.
This combination is a $30.00 value, offered to you for $8.00. Load 'em up and move 'em out — take them home to pamper your skin.
Only logged in customers who have purchased this product may leave a review.