Holly Yashi Square Niobium Earrings, Black, Shades Of Purple
$22.00
Out of stock
Description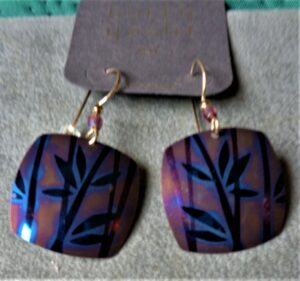 Here you see a fine pair of Holly Yashi niobium earrings. These are from Holly's "Kestral" design style.
On a background that we could call a "peachy bronze", you see a pattern of black stems and leaves, outlined in purple. Perhaps you'd see these on a moonlit walk through an exquisite garden.
With the soft background, the purple and black design "pops", making these earrings a quiet statement about color.
The niobium hangs from gold-fill French hook earwires. That niobium piece, by itself, measures 7/8 inch across. Above the niobium and affixed to the earwire is a tiny, iridescent lavender bead. If you measure from this bead to the bottom of the earring, it comes out to 1-1/2 inches long.
Only logged in customers who have purchased this product may leave a review.