Holly Yashi Niobium Earrings, Silvery Flowers On Steel-Blue Background
$21.00
Description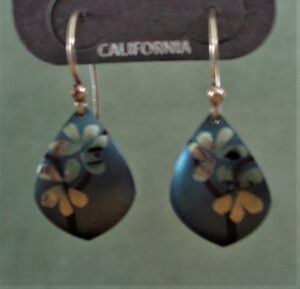 These small earrings in a bit of an irregular teardrop shape from Holly Yashi offer simple beauty. On the steel-blue niobium background rests a spray of silver flowers on a charcoal-colored stem. These versatile earrings could be worn equally well with an elegant outfit or something very casual.
Lovely to look at and light-weight, they hang from sterling French hooks. The niobium is a bit of a free-form teardrop shape and measures 3/4 inch from top to tip, and 1/2 inch wide at their widest point.
For a great bargain on Holly Yashi earrings, select this pair
Only logged in customers who have purchased this product may leave a review.