Holly Yashi Niobium Bird Earrings, Gold Fill French Hooks
$20.00
Description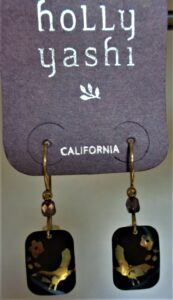 Holly Yashi of California is known by many jewelry wearers for her very attractive color combinations in niobium. Here we see a small example.
The niobium, a small rectangle, starts with deep blue at the bottom and merges into black at the top.
Against this backdrop stands a small gold bird and two tiny gold blossoms.
The French hook ear wires are gold-filled. Between the wire and the top of the rectangle reside a tiny gold bead and a small purple Aurora Borealis crystal. Holly doesn't stint on detail!
The niobium piece measures 1/2 inch high by 3/8 inch wide.
Only logged in customers who have purchased this product may leave a review.