Holly Yashi Hawaiian-Style Necklace, Gold-Fill, Swarovski Crystal
$19.00
Out of stock
Description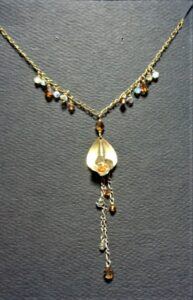 This necklace goes very well with the Hawaiian lei earrings also featured here. The gold-fill chain and the chain ends at the base of the necklace are both adorned with tiny , shimmery Swarovski crystal beads. The necklace is formed in the popular "Y" configuration.
The leaf and the flower petals are all gold-filled. This delicate necklace will make a lovely accent for a favorite outfit.
The necklace chain measures 18 inches long. At the bottom of the Y,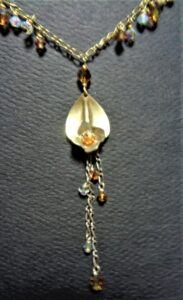 the leaf and flower with its gold streamers and Swarovski crystals add 2-1/4 inches to the total length. This "Y" necklace, though small and dainty, can make a huge impact.
Only logged in customers who have purchased this product may leave a review.