Holly Yashi Hawaiian Lei Earrings, Swarovski Crystal Centers
$17.00
Description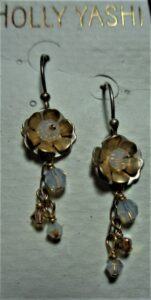 These Holly Yashi earrings feature a gold-filled flower on a niobium base, and small gold-fill chains dangling at the ends. Swarovski crystals hang from these dainty chains and also form the center of the gold flower.
French hook wires are also gold-filled. These earrings measure 1-1/4 inches long by 3/8 inch wide.
Only logged in customers who have purchased this product may leave a review.