Holly Yashi Gold Overlay Heart Earrings, French Hooks
$29.00
Description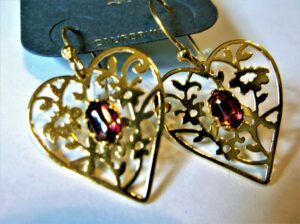 Here are gold overlay heart earrings on French hooks, set with a garnet at the center. These match the Holly Yashi necklace also listed here. If you like sets, grab them both.
Patterned with the same filigree leaf-and-flower design as the necklace, these earrings would serve you well with or without the necklace.
In keeping with the gold overlay of the earrings, the wires are gold-filled. The hearts on the earrings are a bit smaller than those on the necklace. They measure 3/4 inch high by 3/4 inch wide.
Only logged in customers who have purchased this product may leave a review.