Here Are Some Boot-Scooting Earrings For You Line Dancers
$5.00
Description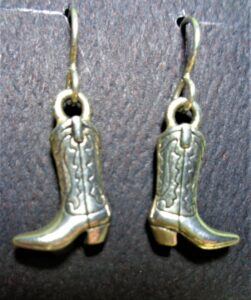 These cute boot earrings are perhaps meant for an aspiring cowgirl. On French hooks with sterling wires, they appear to be sterling. However, I've searched carefully for a 925 stamp and can't find one.
They clean up nicely and hold their shine well, so if they are not sterling, they're the next best thing.
This pair of boots is nicely detailed, even for their small size. The earrings measure 3/4 inch long. The foot of the boot measures 1/2 inch wide.
These fun earrings wait to give you a good time.
Only logged in customers who have purchased this product may leave a review.