Heartwood Slide-Top Toothpick Box In Lovely Walnut
$9.00
Description
What a handsome little box! Just right to hold a small supply of toothpicks, and the small box will fit well into your pocket.
Though you can take the lid off this box, it will not fall off all by itself. Small magnets on box and lid hold it in place when it's closed or partially open.
This box measures 3-1/2 inches long by 1-1/4 inches wide. It measures 5/8 inch high.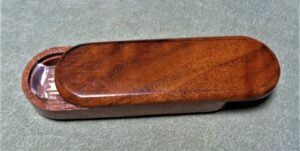 Only logged in customers who have purchased this product may leave a review.