Handmade Purple Earrings, Pink Faux Pearl, Small Gold Accent
$4.00
Description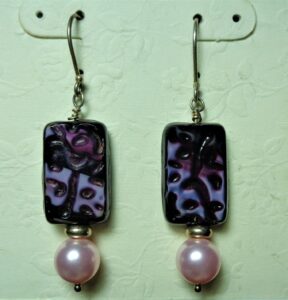 These purple earrings on French hooks came in as a trade, so I have very little information about them. I believe the rectangular purple blocks are formed of fimo. Colored light and dark purple, they are decorated with squiggles and dots.
Though probably made of clay, they are fairly light-weight. The pink faux pearl at the base accent them nicely. A small gold washer rests between the purple block and the pearl.
These earrings measure 1-1/4 inches long. The rectangular piece measures 3/4 inch long and 7/16 inch wide. The fimo rectangular slab measures 3/4 inch thick.
Priced to sell, these will cost you $4.00 in the boutique. The original retail price is unknown.
Only logged in customers who have purchased this product may leave a review.