Hand-Made White Marble Bear From Jade World In Canada
$9.00
Out of stock
Description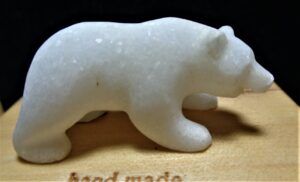 This sweet marble bear could be a nice addition to your animal collection. Hand-carved from white marble, he started life at Jade World in Canada, and will be most happy to find a place in your collectibles.
The bear has his own little fitted box to live in. However, he has lost his dinner. He once carried a jade fish in his mouth. Perhaps some other bear stole it from him. You will be happy to know that I discounted the price quite a bit because of that missing fish.
However, this carving still pleases the eye, dinner or no dinner. The bear measures  2 inches long by 1 inch high. He can sleep in his "den" or stand on top.
You may also be pleased to know that none of my animals bite and they have all  had proper bathroom training.
Only logged in customers who have purchased this product may leave a review.