Hand-Made Necklace, Antique Russian Blues,Tiny Glass Beads
$15.00
Description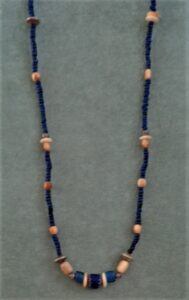 This necklace, taken in a trade, was hand-crafted by someone who found a good use for small antique beads.
The predominant color is cobalt blue, one of my favorites. Most of the beads are very small dark blue glass, interspersed with some bone beads and a few silver and bone disks, spaced well apart.
At the center point of the necklace are some choice collector's beads, adding considerably to the value of the entire piece. The bead at the very center is a cobalt blue chevron bead, made in Italy. Flat bone disks separate it from two faceted Russian blue beads, one on either side. One more Russian blue appears to mark the very top of the necklace.
There is good value here, and a very attractive combination of materials. This necklace measures a long 30 inches, and is an excellent deal for the price.
Only logged in customers who have purchased this product may leave a review.