Green Amber Post Earrings, Elaborate Sterling Silver Setting
$12.00
Description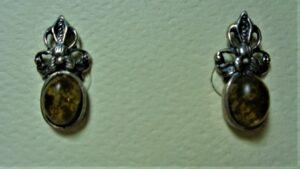 Green amber, a bit of a departure from traditional amber, has been heat-treated to change the color. Do you suppose the discovery that heat turned amber green was originally a lucky accident?
The stone itself is an elongated oval. Its bezel is plain, but the additional silverwork above the stone is quite elaborate, like a fancy headdress, or perhaps a crown.
I believe these earrings could be worn with either the green stone or the silver work at the top. It's the wearer's choice.
The earring from top to bottom measures 3/4 inch high. The stone measures 3/8 inch long by 1/4 inch wide.
Only logged in customers who have purchased this product may leave a review.