Cast Sterling Pin Of Tamarack Branch, Bronze Cones, From Judie Gumm
$60.00
Description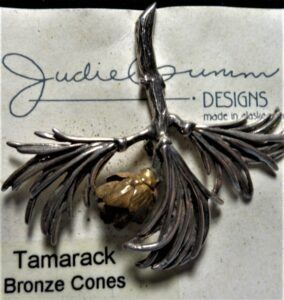 Artistry in silver describes Judie Gumm's fine work. This large pin has long been a favorite of mine. The detail is exceptional, yet the intricate piece boasts very clean lines.
If you want to use the pin as a necklace, just run a chain through the pin back. However, the size and shape make it perfect for a large pin that will add quiet elegance to your outfit.
The pin measures two inches high by 2-1/4 inches wide at the widest point.
Only logged in customers who have purchased this product may leave a review.