Antique Pottery Shards Set In Sterling Silver
$15.00
Description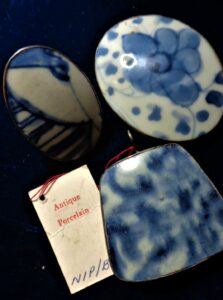 Have you ever seen anything like these pieces? If you look for the unusual, you've found it. This jewelry is made in Thailand from pieces of antique pottery. The set consists of a ring, pendant, and brooch.
The pieces were very tarnished, and when I checked the back for marks, I discovered that all three were stamped "sterling." So, I cleaned them up sufficiently so that I could see that the shards were indeed set in sterling, hand-formed to fit each piece.
They could still use a bit more polishing but, believe me, they look a lot better than they did when I first received them.
The oval-shaped ring is adjustable, and must presently be sized at about a 7, because it fits me. The pottery piece in the ring measures two inches long by 1-1/2 inches side. It is certainly large enough to be noticed.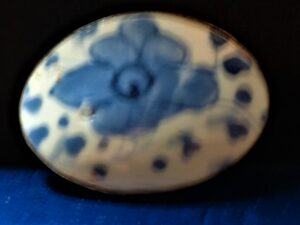 The brooch, also a long oval, measures 2-1/2 inches long by 1-3/4 inches wide. The pin-back, located about 1/4 inch of the way from the top of the brooch, measures two inches long.
The pendant is an uneven shape, wider at the bottom than at the top. Across the top it measures 1-1/2 inch wide and at the bottom it measures two inches across. The piece measures two inches high, not including the bale.
If you want something truly unique at a bargain price, select this set, hand-made from antique pottery shards.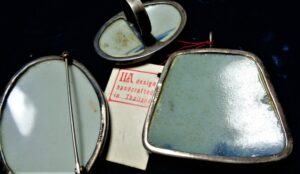 Only logged in customers who have purchased this product may leave a review.