Ancient Siwa Shell Set In Elaborate Indonesian Silver Design
$28.00
Out of stock
Description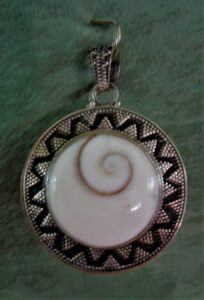 This siwa shell was collected from a desert floor that was at one time underwater. Set in sterling, siwa shells from a long-ago era have become very popular in jewelry.
This one has been enhanced with a 1/4 inch flat silver frame holding the bezel with the stone. The plain white shell with its brown spiral design contrasts so well with the intricate Indonesian granulated silver design. This same design repeats on the bale at top. The total effect is dramatic and very attractive.
The width of the whole piece measures 1-1/4 inches across. The shell itself measures 3/4 inch across. The shell is open at the back so it can breathe. The intricately-decorated bale adds to the beauty of the piece.
You will find so many times when this pendant is the perfect piece of jewelry to wear.
Only logged in customers who have purchased this product may leave a review.