Amethyst, Purple Quartz Earrings On Sterling Wires
$30.00
Description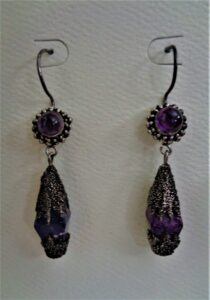 These earrings, made in Thailand, might be the only pair like them in existence. At any rate, they are highly unusual. The lower, main part of the earring is an elongated piece of purple quartz, in an unusual shape. I looked up geometric shapes online, and it appears to be a "rhombus."
At any rate, purple quartz is an interesting stone choice. According to my crystal encyclopedia, purple quartz is beneficial to the cleaning of the organs. The book tells us it is also capable of stimulating thinking and helping us learn to analyze data.
This quartz rhombus is capped on either end with an elaborate granulated silver bonnet and base. The silver has been oxidized to give it an antique look.
Attached to the purple quartz by two small loops is a vivid amethyst stone set in a sterling bezel decorated with two rows of small silver drops.
The total length of the earring measures 1-5/8 inches long. The quartz rhombus measures one inch long and the amethyst stone measures 1/4 inch across.
If you love purple as well as original jewelry, this is the pair for you.
Only logged in customers who have purchased this product may leave a review.