AK Forget-Me-Not Flowers, Austrian Crystal, On Post Earrings
$10.00
Out of stock
Description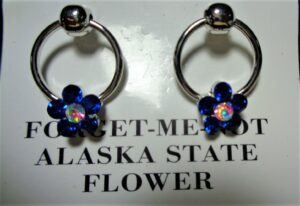 The small blue and white forget-me-not flowers on these earrings are set with blue and clear Austrian crystal. The forget-me-not rests on the edge of a silver loop. The posts for the earring attach to a round silver bead which holds the loop with its lovely blue flower.
The metal used for this pair is not sterling, but a kind of silver metal that will not tarnish.
Small but colorful, these could become a favorite earring. These beauties measure 1/2 inch across the loop and 3/4 inch long. Earring wires appear to be surgical steel.
Only logged in customers who have purchased this product may leave a review.