Sale!
Adajio Long "Necktie" Post Earrings With Blue Geometric Pattern
Description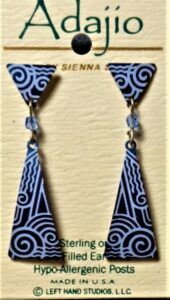 From Adajio, a part of Left Hand Studios in Longmont, Colorado comes this pair of earrings with a very striking pattern. The earrings are formed from two triangles, one short and one long, joined at their meeting point with a small blue crystal bead.
The distinctive pattern is created by pale blue lines, spiral, straight, and wavy, which cover the dark blue earring surface.
The top triangle, flat across the top and point down, has sides of equal length. The earrings' post attaches to the back of this piece. The post includes a round, flat disk that fits against the ear and holds the earring in place.
Tiny loops join the top triangle to the bottom one, with a small blue crystal bead in between.
The bottom section is formed by an elongated triangle, with the point at top and flat side on the bottom. A nice detail: If the bottom triangle becomes flipped over, the back is dark blue, so they still retain their color scheme.
These earrings measure 1-3/4 from top to bottom, and at the very bottom flat edge, they are the widest, measuring 1/2 inch wide.
Only logged in customers who have purchased this product may leave a review.