3-Dimensional Sterling Detailed Orca Pendant, Silver Chain
$45.00
Description
Hanging from an 18-inch sterling snake chain is this detailed sterling casting of an orca whale. The detail carved into the casting is well-done; even the orca's teeth are etched in there.
It is three-dimensional in form; hollow on the inside. Under the tail you will find a 925 sterling stamp and a maker's mark. The design is on both sides of the casting.
The whale is an inch long at its longest point, and from fin to fin, the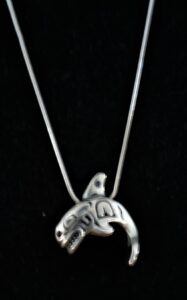 width measures 3/4 inch.
This durable and well-designed piece will give you lots of chances to have the pleasure of wearing it.
Only logged in customers who have purchased this product may leave a review.