Unusual Amber Earrings With Screw Backs For Non-Pierced Ears
$27.00
Description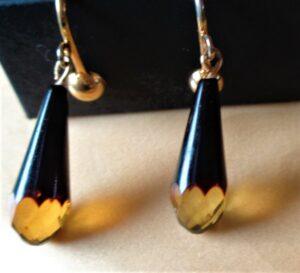 The amber on these earrings is really different. Done in a long cone shape, the amber end is faceted. Further up, the cone is finished with a black cover of some kind. Perhaps the cone is also amber, and the black has been added just to create a lovely effect.
In fact, the amber end and the black cover join seamlessly, so I'm thinking the whole thing is amber and the black color has been added to make them stand out.
These amber drops are designed in such a way that they will hang well from the ear. The gold screw back ear fastener is most likely gold fill. The drops could even be changed to wires if you have pierced ears.
The cone with its amber end measures 3/4 inch long. This pair would be a treasure for someone who likes earrings but does not have pierced ears.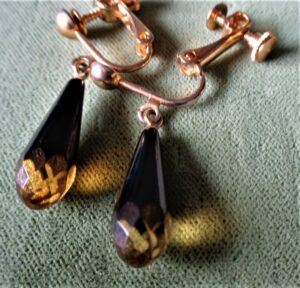 Only logged in customers who have purchased this product may leave a review.