Unadorned Square Dark Cognac Amber Pendant, Silver Bale
$15.00
Description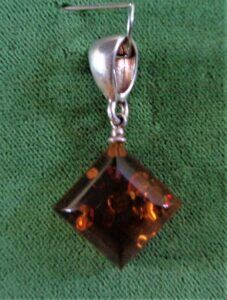 If you would like a piece of amber with no added decoration, you have found it! This piece of dark cognac amber is cut in a square shape. However, it has sides that slope upward; they curve slightly toward the top of the pendant. Nearly 1/4 inch thick, the pendant lights from within.
Looking down on it, you can see that the sides, tapering upward, form a smaller square at the top. Though it's a square, the bale, which is sterling silver, is set at  one side point, creating a diamond shape. From top to bottom and from side to side, it measures 3/4 inch long.
Amber is a healing stone, with an ability to draw out negative energy. Thus the body has the opportunity to heal itself. It also has the power to promote stability in your body. Wear it or carry it always in a pocket to utilize its healing powers.
Only logged in customers who have purchased this product may leave a review.