"Stone Of Love" Rhodonite Post Earrings From Jade World
$34.00
Description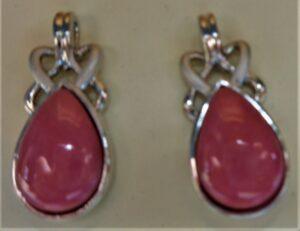 To match the pendant listed here, be sure to grab these rhodonite earrings set in their silver bezels. This time it's silver-plated. The backs for these posts are tight-fitting findings that include a flat disc that adheres tightly to your ear.
The rhodonite comes to us from Canada or Alaska, both places where this gem can be found. Though also a teardrop shape, these are just a little larger than the stone in the pendant. The teardrop measures 5/8 inch long, and just over 3/8 inch wide at the widest point.
Wear these earrings to bring love into your life, color to your ears, and a smile to your face.
Only logged in customers who have purchased this product may leave a review.