Sterling Silver And Amber Pendant, Scallop Shell Shape
$12.00
Description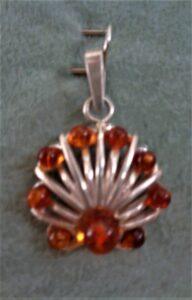 Delicate silver "fingers" reach to the end of this pendant which bears the shape of a scallop shell. Every other silver "finger" has a small, round bead of amber at its tip.
The complete pendant has eight of these round amber beads. At the center top of the shell shape rests a round amber bead about twice the size of the beads around the edge. Though the large amber bead rests at center top of the shell, since the shell hangs upside down, this large amber piece becomes the bottom of the pendant.
A silver bale attaches to a loop at the top of the pendant, roomy enough for chain or cord. The sterling 925 stamp is on the bale.
This pendant measures 3/4 inch high from the base of the bale for the chain to the base of the pendant. At its widest, it measures 3/4 inch across.
Only logged in customers who have purchased this product may leave a review.