Lovely Austrian Crystal Forget-Me-Not Necklace, Silver Chain
$20.00
Description
This sweet creation features two deep-blue Austrian crystal forget-me-not flowers with leaves of clear crystal, all attached to a silver chain. The chain is not sterling, but a silver metal that will not tarnish.
The necklace measures 20 inches long. In addition, there is a two-inch extender at the end of the necklace, allowing you to add two inches to the length if you so choose.
Consider this necklace a celebration of spring!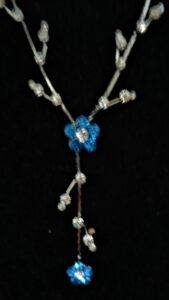 Only logged in customers who have purchased this product may leave a review.