Long Necklace Of Faceted Black Beads, Possibly Jet
$15.00
Description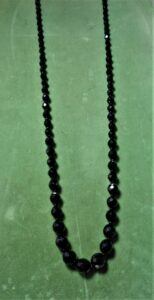 If you have need for a long black necklace, this one would fill the bill. It's 28 inches long, and starts with small beads near the top, graduating to large ones at the bottom center.
The beads are quite lovely, reflecting a great deal of light from their faceted surfaces. I tried to find out if these beads could possibly be genuine jet, but short of burning one, I don't know how I'd find out.
True jet is a form of coal, and jet beads would burn quite well. Not wanting to try such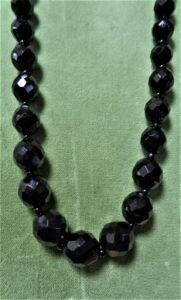 an extreme method of identifying the beads, will offer them at a good price and let you decide.
Jet or not, if you need a long black necklace with lots of shine, grab this one.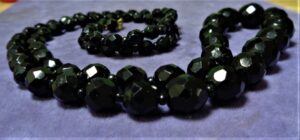 Only logged in customers who have purchased this product may leave a review.