Lemon Tree Elongated Oval Earrings Feature Treble Clef
$17.00
Description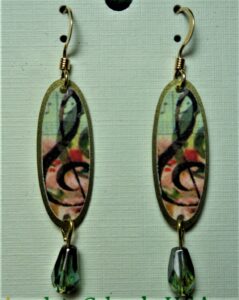 These earrings from Lemon Tree at Left Hand Studios in Colorado would be perfect for a musician or a music lover. Part of the design features a treble clef. It's black, and set against a background of pink and green tones.
A gold edge surrounds the long oval, and a faceted soft green bead dangles from the end. Ear wires are gold French hooks, most likely gold-filled.
The ovals measure one inch long and 3/8 inch wide. Wear these to celebrate joy.
Only logged in customers who have purchased this product may leave a review.